What kinds of tours are stored in Deli Serdang? Anyone know? Maybe some of you already know. Okay, if you don't know, don't be disappointed, here will be discussed thoroughly, what paradise is stored in Deli Serdang, come on! read carefully the article below.
Deli Serdang is a paradise that has a diversity of abundant natural resources, so it is actually an area that has quite promising investment opportunities. In addition to having large natural resources, Deli Serdang also has cultural diversity, because before the Proclamation of 1945, the Deli Serdang area was an area of ​​the Deli Sultanate which was centered in Medan City, and the Serdang Sultanate was centered in Perbaungan, about 38 km from Medan City to Medan City. High cliff. No wonder Deli Serdang is rich in culture, but no less than that, the tourist destinations are also cool. This is a tourist destination in Deli Serdang that you should explore..
Two Color Waterfall
Dua Warna Waterfall is also known as Telaga Bitu Sibolangit Waterfall. This waterfall has a waterfall height of about 75 meters and is located at an altitude of 1475 m above sea level. This waterfall is located upstream of the Sinembah 1 River in Durian Sirugun Village, Sibolangit District, 4 hours from Medan City. It is said that this area was formed from the eruption of Mount Sibayak hundreds of years ago.
As the name implies the waterfall has two colors, one is a beautiful blue and the water is very cold, with green mossy cliffs around it. The other one is clear white and feels warm. These two waterfalls are separated but still close together, only separated by several small waterfalls that decorate the cliffs.
The most surprising thing, although this two-colored waterfall originates from the eruption of Mount Sibayak, the waterfall does not emit a sulfur smell. However, you are advised not to drink the water. In addition, the existence of this waterfall is also hidden in a tropical rain forest in the middle of Sibayak I and Sibayak II forests with an altitude of 1475 meters above sea level.
So, for those of you who really love the natural beauty of Indonesia, what are you waiting for, it's time to visit Durian Sirugun Village in the Sibolangit area to enjoy the beauty of this Two Color Waterfall.
The Natural Baths of Worship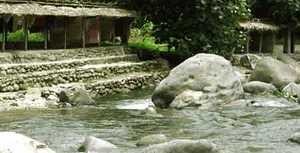 This tour is a natural bath with very cool and clear water. Located in Sembahe Village, Sibolangit District, Deli Serdang Regency. To enter the natural bathing worship, a fee of Rp. 5000 – Rp. 8000. Very economical right! being treated to large rocks, green plants and clear water is very interesting for those of you who like to throw themselves into the water.
Not far from the natural baths of worship, there are other tourist objects that must be visited, namely "Site Batu Umang" and "Goa Batu Kemang" which is only about 250 meters before the natural baths of worship.
Siba Island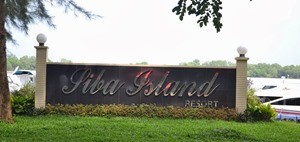 The next tourist spot in Serdang Deli is Siba Island. Siba Island is often also called Siba Island, this island was once uninhabited but over time Siba Island became marine tourism in North Sumatra. The entrance ticket to this island is around Rp. 30,000 with various facilities including;
Resort with 60 rooms
Speed ​​boot that must be used when going around the mangrove forest
Fishing spot or fishing area
Swimming pool
Restaurant
Hall
Green Hill City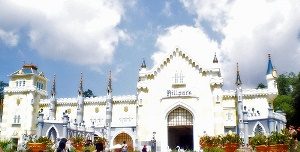 Green Hill City is an entertainment tourist attraction that contains a playground for families, it can be said that Green Hill City in Deli Serdang is similar to Ancol in Jakarta, but many say that the facilities here are more complete.
This Green Hill City Deli Serdang tour is located in the Sibolangit District, Deli Serdang Regency, North Sumatra, and is a very fitting place for a vacation with family, recreation with the baby, filling vacation time, because Green Hill is recognized as an entertainment area for playing games. international family. It is said to be of international standard because the facilities in this family entertainment area are quite complete, there are Roller Coasters, Ferris wheel, 4D Cinema, and others, then the location is very wide, there is also a green park which adds to the coolness of this Green Hill.
Linting Lake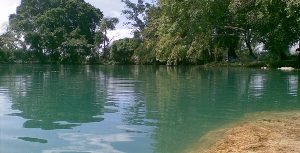 The next tourist spot in Serdang Deli is Lake Linting. Lake Linting is actually a small hilltop in Sibunga-bunga village downstream, Sinembah Tanjung Muda (STM) Hulu sub-district. According to local residents, this lake used to not exist, but one night there was a loud noise and shaking around the location which eventually formed Linting Lake.
Lake Linting has an amazing beauty with hot water temperatures and contains sulfur and very beautiful turquoise green water.
Sempuran Putih Waterfall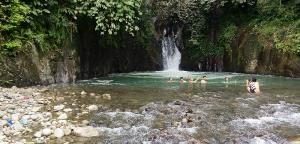 Sampuran Putih Waterfall is also known as the White Waterfall. This waterfall has a height of about 3 m. This waterfall has seven levels where only one level can be seen, the rest are covered by rocks.
It is said that the overall height of this waterfall is 150 meters through steep cliffs and winding to form the Lau Jabi river which contains a lot of sulfur. At the last level, before falling to the ground, this waterfall seems to come out of the mouth of a cave with a diameter of 10 m. When it falls, the waterfall forms white foam. The panorama is truly extraordinary.
This waterfall is located in Cinta Rakyat/Basukum Village, Sibolangit District, Deli Serdang Regency, North Sumatra Province. The trip can be taken 2 hours from Medan City, followed by a 30 minute walk. Huh, walking, must be tired? Relax, even if you walk but you will never regret it. Because the location and the route to the waterfall is still very beautiful and cool, there are still a lot of forests around it. This will keep your spirits up.
Loknya Valley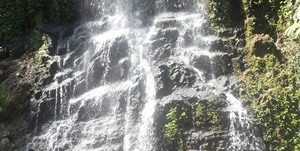 The Loknya Valley is located in the Bandar Baru village area, Sibolangit District, North Sumatra. If you depart from Medan, it can take about 2.5 hours to go to DTW Loknya because the distance is about 4.5 Km from the center of Medan City. You can use two-wheeled or four-wheeled transportation.
The view of the Loknya valley will spoil your eyes, in the form of a valley with epic views, especially waterfalls that fall from the hills into small rivers filled with charming rocks. Loknya valley is the right place for those of you who want to feel the sensation of bathing with super clear water without a mixture of chlorine, feel the fresh air blowing into every inch of the lungs and the green trees that collide with the blue sky with clumps of clouds of course send the soul to a point of happiness for His creation. the most beautiful.
Just a tip, because the place is far away, if you want to vacation with family, friends, and special people to visit the Loknya valley, you should also prepare enough supplies to stock up on food during your vacation.
Lau Sigembur Natural Baths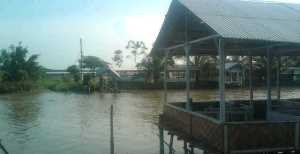 This bath is located in Simada-mada Village, STM Hilir District, the distance is about 31 km from the center of Medan city, and about 28 km from Lubuk Pakam city. Surrounded by shady forests, the unspoiled flow of the Kustomai River and the cool air touching the lungs, this natural Lau Sigembur bath feels very comfortable to pamper the body.
This is also an ideal and suitable place for camping, relaxing because the location of this object directly touches nature.
Caves and Harvest Hot Springs Attractions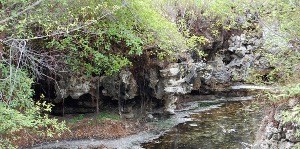 Cave tours and Harvest hot springs are about 63 km from the city of Lubuk Pakam and about 45 km from the city of Medan. In the area of ​​this tourist attraction, there are four natural caves in the form of shells with a mouth width of 10 to 25 m.
The hot water harvest was initially used by local residents as irrigation for the surrounding rice fields, then residents made a shower for bathing. Furthermore, this tourist attraction was developed with various better arrangements, and the allocation of separate bathing areas for men and women.
The temperature in this place is quite hot around 45 Celsius which contains sulfur, very suitable for bathing and bathing for healthy skin.
Martable Golf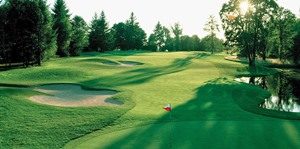 In general, tourist objects in Deli Serdang can be divided into 3 based on topography, namely highlands/mountains, lowlands and beaches. This golf course is located 24 km from Medan City towards Berastagi. Can be reached using private vehicles, public buses, mini buses and other vehicles. Because the transportation here is quite good, there are many public buses that can deliver such as: the Sinabung Jaya public bus, the Silk, the Borneo match and the many mini buses.
The Martable golf area is very beautiful, like a valley with very cool air, so that you golf lovers can feel the atmosphere of the area which is an interesting place to exercise while relaxing.
There are also many facilities here, such as restaurants, bathrooms, offices and prayer rooms.
Dewi Sibolangit Recreation Park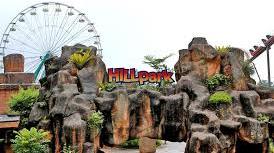 Tourist attractions in Deli Serdang that are no less interesting are the Dewi Sibolangit playground. Dewi Sibolangit Recreation Park was built by the owner named Hasan Hasanuddin on March 7, 1996, it was carried out for one year and then opened gradually. The park was inaugurated and operational after the first phase of construction on March 7, 1997.
This park can be said to be unique, because the building was inspired by the ideas and creations of the owner who is very religious and educated (educational).
The ideas and creations for the construction of the park are realized from the travel experience of the owner, both domestically and abroad, so that what is presented is very interesting and not boring. This Sibolagi tourist attraction also received an award from the national level as a tourist attraction with environmental nuances.
Scout Park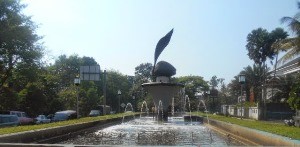 Scout Park or better known as the Camping Ground, is about 63 km from the city of Lubuk Pakam, as the capital of Deli Serdang Regency, while from Medan it is about 45 km as the capital of North Sumatra Province.
This Scout Park is located in a mountainous area in Sibolangit District which covers an area of ​​​​approximately 350 ha. This object is an ideal place for recreation other than camping to eliminate all mental fatigue and the influence of pollution in big cities such as Medan during big days and holidays.
Those are some interesting tours that you can visit when exploring Deli Serdang-North Sumatra. Interesting right? So, let's go to Deli Serdang.!!
other related articles: