Bekasi is one of the districts in West Java. Although not too much is known but basically Bekasi is one part of the tourist attractions in West Java which is quite interesting. there are so many tourist attractions in Bekasi that we can visit. As one of the tourist attractions not far from Jakarta, Bekasi is often used as a tourist destination for the people of Jakarta and its surroundings. Bekasi may not have too much natural tourism potential.
However, Bekasi has other interesting tourism potential, namely the potential for culinary tourism and shopping tourism. In this case, it can be said that Bekasi is a very suitable place. Bekasi itself is a city that is growing and continues to grow. So do not be surprised if the construction of new locations keep popping up. Some of these locations have turned into new shopping centers and new tourist sites as well.
However, the peaceful and calm natural atmosphere is a condition that is always interesting for us to feel. Likewise, in the Bekasi area, there are many places that have quite a pleasant natural feel. This atmosphere is presented by several places to eat with natural nuances in Bekasi which are quite interesting to visit.
Culinary is one of the important aspects and it is owned by Bekasi. There are not too many natural tourist destinations in Bekasi, one of the most famous natural tourist sites in Bekasi is Curug Parigi. But, even so, there are still other types of tours that are quite interesting for us to do in Bekasi. We can go around the city of Bekasi while enjoying the culinary tourism offerings which are very interesting. In addition, several places to eat offer a view and a quite interesting atmosphere. A place to eat that offers a natural atmosphere in the middle of the city will certainly attract visitors. Moreover, we can enjoy the atmosphere accompanied by a dish of food which is also delicious. Some places to eat in Bekasi that have an interesting natural atmosphere are:
1. Gubug Mang Engking
Who does not know this one place to eat, a place to eat that is already very famous for its enjoyment. If we talk about places to eat that serve Sundanese and seafood dishes, then gubug mang engking is one place that we shouldn't miss.
This place to eat itself has become a famous place to eat in various areas such as places to eat with natural nuances in Bogor, places to eat with natural nuances in Bandung, places to eat with natural nuances in Depok. This proves that this one place to eat does have very good quality and can satisfy its customers. The food menu served at this location itself does have a variety of diverse types.
We can find a variety of seafood menus that are very interesting. However, we can also find some traditional dishes that are no less delicious. Enjoying the food at this location itself will be very pleasant because we will be treated to a very cool and refreshing view from the artificial pools in that place. In addition, we can also sit down in the huts that have been provided by the restaurant. Enjoying the natural atmosphere in the middle of the city of Bekasi, it's definitely fun.
2. Floating Saung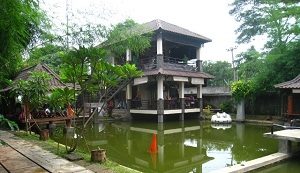 A natural atmosphere or an atmosphere that resembles the serenity of nature is very difficult to obtain in the middle of the city. Even so, this one location managed to present a very interesting natural atmosphere in the city of Bekasi. So it is not surprising that this location itself is one of the places to eat that is quite loved by the people of Bekasi.
Many visitors who come to this location to enjoy the relaxing natural atmosphere while enjoying the menu of cuisine on offer. The menu at this place itself is mostly Sundanese cuisine which is very delicious to enjoy. We can find many menus ranging from crab, carp, shrimp, squid, and various menus that will surely make you all addicted to come back here. If we enter this place, we will see several children's playgrounds and there is also a fishing pond that can be used by visitors who want to fish themselves. Really, interesting is not the place.
3. Saung Village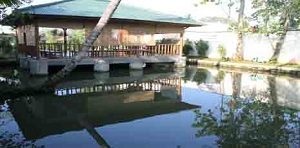 Another place to eat with natural nuances in Bekasi that we must visit. The concept carried by this place is still around the concept of Sundanese food. So if we visit this location, we will be spoiled by views of the huts and interesting fish ponds. However, in fact this place itself does not fully carry the concept of a Sundanese building.
This can be seen from the presence of other buildings in the restaurant complex. Maybe this place combines traditional Sundanese concepts with modern concepts. For the food itself, this place has various types of dishes that smell of seafood. For those of you who like seafood-smelling food, this location is the right location for you to visit. Here you can find a lot of menus, ranging from shrimp, carp, squid, clams, crabs and many other seafood menus. But for those who don't like the seafood menu, don't worry, this place also serves a variety of food menus that are not related to seafood.
4. Kenanga dining hut
Another place to eat that has a natural atmosphere in the middle of the city of Bekasi. This one place can satisfy those of us who want to get back to eating on the edge of the rice fields, or just eating in the cool and fresh nature. If that's what you're looking for then this place is a must and must visit. This place itself provides a lot of huts that can be used by visitors who want to enjoy their food while feeling the coolness of nature. In addition, we can also enjoy food while sitting down. This is of course more and more fun. Moreover, there are a lot of food menus that come from Sundanese dishes and other Indonesian menus. So we are full of food, and satisfied with its natural atmosphere.
In addition to the places mentioned above, there are several other places to eat that have a natural atmosphere, such as
Pondok Pangandaran
Taste of Curry Sukawening
RM Saung Sunda Alam
Sangkuriang Village
Saung Marga Jaya Park Restaurant
Saung Sari Parahyangan
Sari Nature
That was a place to eat with natural nuances in Bekasi that you can visit. Visiting these places to eat will make us full of food and happy with the natural atmosphere. Hopefully the information was useful.