Bandung is a city located in West Java. In addition to the city of Bandung, there are also Bandung Regency and West Bandung Regency. Bandung is the capital city of West Java province, so Bandung is the second metropolitan city after Jabodetabek. The city of Bandung based on its geographical location is located in the middle of the province of West Java, therefore various fields in the city of Bandung are quite advanced. The city of Bandung is located at an altitude of approximately 768 meters above sea level, the northern part of the city of Bandung has a higher altitude than the southern part. In addition, Bandung is surrounded by many mountains so that the temperature in the city of Bandung is quite cool and not too hot. The city of Bandung is one of the cities often visited by local tourists on weekends, no wonder if on weekends in certain areas there are often traffic jams.
Enjoying the beauty of the city of Bandung and tourist parks in Bandung at night is one of the best choices when on vacation to Bandung. If you don't know which tourist attractions are open at night, here are 104 night attractions in Bandung that can be used as your vacation spot. What are the night attractions in Bandung? let's go straight to the discussion!
1. Find Tilu
Caringin Tilu or Cartil is a tourist spot located in Cimenyan Village, Ciemnyang District, East Bandung. Geographically, Cartil is located in the Manglayang Mountains and is around the highlands so that the atmosphere in Cartil is cool. If you don't know the route to the cartil then the place that is used as a benchmark is Saung Angklung Udjo in Padasuka, from Saung Angklung Udjo to the cartil it takes about 5 KM. Cartil is one of the best choices for traveling at night, in this place we can see the beauty of the twinkling lights in the city with a mountainous atmosphere. If you want to take a vacation right after the busy day-to-day activities, then visit cartil for self-reflection. From this cart, we can see the eastern to the western tip of the Bandung basin area which is surrounded by mountains. Cartil is an area that has fertile soil because it is located in a mountainous area, so that cartil is one of the suppliers of various kinds of vegetables for the city of Bandung. Along the road to Cartil there are various vegetable gardens.
Caringin tilu's name comes from meaning "three banyan trees". In addition, there are several mystical stories around Cartil and its surroundings. Although cartil is a natural tourist spot located in the highlands and is a new year's place in Bandung. Cartil which is now no longer a place that keeps mystery stories but has become a favorite place for young people to enjoy the beauty of nature at night. Until now, the cartil has been visited by many people, so various facilities have become available, such as food stalls. One of the places that must be visited is the Cartil Kitchen Cafe, in this place you can try various food and drink menus with beautiful cafe views. The food price range is also very affordable, starting from Rp. 5,000 to Rp. 20,000.
2. Ciumbuleuit Peak (Punclut)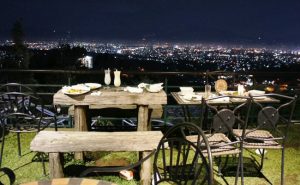 Puncak Ciumbuleuit is one of the places with photo spots in Bandung at night. Puncak Ciumbuleuit or Punclu is an area located in a highland located in North Bandung or about 7 KM from Cihampelas. The location of Punclut is at an altitude of about 1000 meters above sea level so that the atmosphere feels so cool even during the day it still feels cool. This place is one of the best culinary places at night because around the Punclut area there are lots of restaurants that offer a variety of foods with beautiful views of the surroundings. The average temperature around Punclut is around 15-22 degrees Celsius. One of the attractions for tourists is that from this area we can see views of the city of Bandung and some of the mountains that surround the city of Bandung, one of which is in the southern part of Mount Malabar and Mount Patuha.
When visiting night attractions in Bandung, take time for a culinary tour around this punclut. There are lots of food stalls selling Sundanese food which of course has a very good taste. The food that is a favorite for visitors is lead rice or brown rice served on boboko, boboko is a place to store rice made of woven bamboo. While the complementary menu includes chicken, fish, eel, tofu, tempeh, shrimp and various other eating menus. If you don't want to eat heavy food, you can try traditional bandrek or bajigur drinks to warm your body or you can also buy grilled corn and grilled sticky rice. The route to Punclut is very easy because this place is already on the GPS so you don't have to bother looking for it.
3. Jalan Braga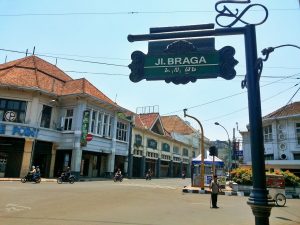 Jalan Braga is one of the names of a street located in the city of Bandung, West Java. Jalan Braga is a road that has been very famous since the Dutch colonial government until now. Jalan Braga is a road with the concept of a one stop holiday and is located in the center of the crowd, so a lot of business activities take place around Jalan Braga. The location of Jalan Braga has a path in the same direction as the main route to the Museum of the Asian-African Conference. Along Braga Street, there are many shops that still have old architectural buildings, namely using the architecture of the Dutch East Indies. Jalan Braga certainly has a historical story, in the 1900s Jalan Braga was just a lonely road that was very vulnerable. But suddenly the street became very busy when the Dutch opened shops, bars and other entertainment places on Jalan Braga.
Around the 1920s until the 1930s, various clothing boutiques began to exist. Then the Societeit Concordia building was built which was used as a meeting place for wealthy people. One of the places that can be visited on Jalan Braga is Braga City Walk. Braga City Walk is a place with a combined concept of a shopping mall, condominium and hotel. Around Braga City Walk, there are buildings that still have ancient architecture, so they are often used as places for taking pictures or pre-wedding. One of the attractions of Jalan Braga is the Braga Culinary Night event which is usually held every weekend and Jalan Braga has become a night tourist spot in Bandung which is often visited by tourists.
4. Star Peak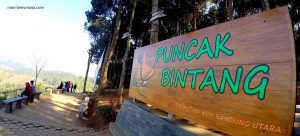 Puncak Bintang is a tourist spot located in Cimenyan District, Bandung, West Java. The location of this star peak is located in the Perhutani area of ​​North Bandung. Puncak Bintang was officially opened as a tourist spot in 2014. Puncak Bintang is one of the best natural attractions in Bandung, the peak of the star is at an altitude of 1500 meters above sea level. The top of the star has a fairly cold temperature and is usually surrounded by white fog. There is no doubt about the natural scenery, there is a very charming natural beauty available around this tourist spot. If you visit the peak of the stars, you are guaranteed to want to linger in silence in this tourist spot. Facilities at the peak of the stars are starting to become available, such as parking lots that have been managed safely, the roads have begun to be paved before they were still rocks. Some of the existing facilities are the star pier, if we go up to the star pier then we will be parallel to the tops of the pine trees. The exotic natural scenery around the star peak can be seen by going up to this star pier.
Visiting the star peaks at night is the best option. At night you can see the sparkling lights of the city in this place. If you want to visit the peak of the star at night, it is better to visit from the afternoon, because the sunset at the peak of the star is one of the moments that should not be missed, the scenery at sunset is very beautiful and also a sunrise spot in Bandung. In addition to enjoying the natural beauty at the peak of the stars, you can also walk around in the pine forest area, while the trekking route is quite far about 2 KM or takes 30 minutes. At the top of the star can already be used as a camping ground, even the top of the star area can accommodate up to 1500 people. The entrance fee for the Puncak Bintang camping area is Rp. 20,000/person. Camping in the Puncak Bintang area is the best choice because in the Puncak Bintang area there are also toilets and prayer rooms available.
In addition to the four bookings, there are many other night attractions that can be visited while on vacation in Bandung. Some of the tourist attractions that you can visit at night include the following:
Satay tower
Bandung City Square
Dago
The Lodge Maribaya
Moko Hill
Asia Africa Street
Leaf Village
Dago Tea House
Vanda Park
Ciater Hot Spring
Cimanggu Hot Spring
Warunk Upnormal
Cafe Lawangwangi
Wiki Koffie
Keraton Cliff
Paris Van Java
Dago Tea House
Cafe D'Expert
Waroeng Setiabudhi
Yellow Truck
Lela's stall
Bober Cafe
Burger rock
The Piek
Sierra
Congo Cafe & Resto
Rancaupas
Hummingbird Eatery
GH Universal Hotel
Trans Studio Bandung
Upper East Cafe
De Tuik Garden Cafe & Resto
Sudirman Street
Sangkuriang Earth
Cocorico
Pisetta
Tuesday Coffee
Maja House
Noah's Barn
Vitamin Sea
Dacosta Cafe Bandung
Sugar Rush
Salse shop
Potluck Coffee Bar and Library
Cikapundung River Spot
Little Wings Book Cafe
Dilamo Deli Kitchen
Cafe Bene
Warunk Segood
Siete
Cihampelas Walk (Ciwalk)
Bandung Indap Plaza (BIP)
Bandung Citylink Festival
Lacamera Coffee
Photography Park
Myloc CoffeePino Pizza
Chicken coop
Floating Market
Film Park
Bamboo Village
Farmhouse
Modjok Coffee Waroeng
Sweep Lidi Resort
Two Hands Full
Maribaya Natural Hot Spring Resort
Pine Forest Camp
Copy Art Space
Noisy Shop
Roemah Eats Delicious
Cikole Jayagiri Resort
Panoramic Anteng Slope
Bonfire
Cikole Graphics Tourist Terminal
Imah Artist
Chingu Cafe
Upside Down World
Amazing Art World
Delicious Martabak Andir
Braga Culinary Night
Mercure Bandung
Kastuba Resort
Dulang Resort & Resto
Sangria Resort & Spa
Maeta Coffee
Sandalwood Boutique
Villa Air
Pa'go Resort Village
Patuha Resort
D'Riam Riverside Resort
Sausage House
Burgundy Dine & Wine
Rock Mountain
Fame Station
Malela waterfall
Bellarosa waterfall
Rainbow Garden
Angling Sand Village Tourism Village
Angkringan De Blankon
Nagrak Hot Spring
Thus recommendations for some night attractions that can be visited at night. Use your weekend off to visit Bandung. Hopefully this article is useful and can be a reference as a night tourist spot in Bandung. Don't miss out on a shopping tour in Bandung.