Bali is a tourist area that is quite complete. Starting from nature tourism, to cultural tourism are there. Tourists who come are free to choose alternative tours according to their wishes. One of them is by visiting a unique tourist village that may not exist anywhere else. If you are interested in visiting a tourist village in Bali, here are some recommended places.
1. Panglipuran Village
The most popular first tourist village in Bali is Panglipuran Village. This tourist village has an area of ​​112 hectares and is one of the must-visit Cultural Tourism in Bali. Of the many hectares, only approximately 9 hectares are functioned as houses and villages.
The rest of the land in the village is used as plantations for local residents. This village has become one of the popular tourist villages in Bali. However, the cultural richness there is still maintained until now.
This village has a very unique form of settlement, namely the houses that still use natural building materials such as bamboo, wood, and also leaves as the roof. The village is also very clean and tidy.
2. Trunyan Village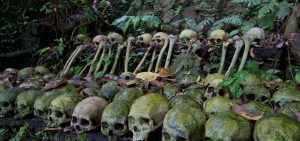 Trunyan Village is one of the oldest villages in Bali which has a unique tradition. The tradition is the tradition of placing the corpse in a woven bamboo. Her name is Seme Wayah.
Unlike the corpses in general which are buried or burned, the bodies in Trunyan village are treated similarly to the Toraja tribe's tradition, which is just put away and left to rot on their own.
The uniqueness of this village is the main attraction for people who want to know more about the tradition. Now this village is also one of the tourist villages that can be visited by tourists.
3. Ubud Village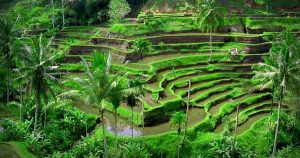 One of the Cheap Vacation Tips to Bali is to visit nature tourism. The Ubud area is one of the tourist areas that is quite popular with tourists. The attraction is the very beautiful and unspoiled natural scenery in Ubud.
Ubud village also has another attraction besides its unspoiled natural scenery, namely the art center in Bali. Some of the typical arts in Ubud Village that are favored by domestic and foreign tourists are carving, dance, sculpture, painting, and others.
Ubud Village also currently has the title as an international tourist village, so its name will be increasingly popular and visited by many local and international tourists.
4. Teganan Village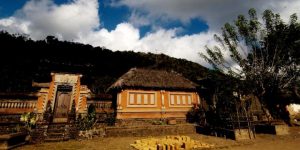 The next tourist village in Bali is Teganan Village. This village is one of three villages in Bali that are included in the Bali Aga composition. Bali Aga is a traditional village concept that is still preserved from the past until now.
This Teganan village also still applies the traditional system in their buying and selling transactions. Among them the system of exchanging goods or barter.
While the professions of the people of Teganan Village themselves are mostly farmers and artists. The artists in Dea Teganan are mostly bamboo craftsmen, painters, and also weavers of cloth.
5. Batubulan Village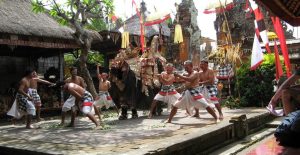 The name of this village is also no longer foreign to the public. Batubulan Village, which is one of the tourist attractions in Bali, is often visited by tourists who want to see traditional Balinese dance performances. Usually the performances shown are barong, legong, and kecak dances.
Batubulan village also has a variety of other art crafts that attract tourists to shop for souvenirs. Therefore this area is never empty of visitors.
Some of the arts that are often sold at Batubulan souvenir shops include sculpture and carving. If you like arts crafts, then this location can be a recommended alternative.
6. Pelaga Village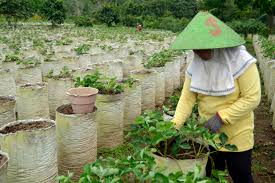 Another tourist village in Bali is Pelaga Village. This village is one of the traditional villages and also an art village that is often visited by tourists who like the concept of agro-tourism. The location is in the District of Petang, Kab. Badung, Bali.
The Pelaga Village area and its agro-tourism are often referred to as Bagus Agro Pelaga. The location of this village is on Mount Catur, which is at Mangu Peak. The interesting thing from there is of course the natural beauty that is still green.
The cool and cold atmosphere will make tourists feel at home for long there to enjoy the scenery. In this village there are also many plants that can be seen. In addition, there are many activities and accommodations that can be rented to stay overnight.
7. Kertalanggu Cultural Village
Kertalanggu cultural village is one of the tourist villages in Bali with an international standard. This village has a culture and cultural heritage that is still maintained and is currently often visited as a tourist attraction. Suitable for Children's Tourist Places in Bali as cultural education.
The location is in Ngurah Rai, Denpasar. Its location not far from the city center makes this village more popular and visited by many tourists. This village has an area of ​​​​approximately 80 hectares. The attraction is the plantations and rice fields which are still very green.
This tourist village was only opened in 2005. Many exciting activities can be done in this village, such as kite painting, weaving, horse riding, painting and dancing, and many more.
8. Celuk Village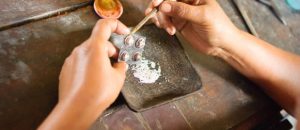 The next tourist village is Celuk village. This village is a silver craft paradise in Bali. If you are very fond of silver crafts, then this location is the perfect location for you.
Celuk Village is a producer of silver handicrafts. This village has also officially become a tourist village that can be visited by tourists. Most tourists who come are those who are really interested in this silver craft.
There, visitors can see for themselves the process of making works of art. There is also a special silver souvenir shop that is ready to serve you in looking for souvenirs.
9. Jatiluwih Village
The next tourist village is Jatiluwih Village. The location is very cool and fresh soothing the eyes and mind. This tourist village is suitable for tourists who want to escape for a moment from the routine in the middle of the city.
The atmosphere of Jatiluwih Village will spoil the eye. With views of the river, rice fields, and also a very simple country house. In addition, the typical rural scenery is increasingly illustrated by the activities of the farmers in the village.
This tourist village has even been designated by UNESCO as one of the world's cultural heritages which is a shame to pass up if you visit Bali.
10. Pinggan Village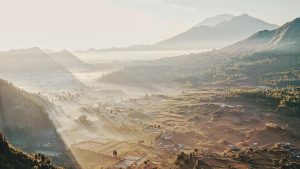 Pinggan Village is also one of the alternative tourist villages that can be visited when traveling to Bali. Pinggan village is located near Mount and Lake Batur. The air there is very fresh and cool.
Even during the day, the air temperature there is only around 21 degrees Celsius. Suitable for those of you who really like the mountainous atmosphere. Although it is quite far from the airport (79 kilometers), this location will not disappoint you.
Lake Batur itself is located in Pinggan Village and has been designated by UNESCO as an earth park or global geopark network. If you like nature tourism in the countryside, this village can be used as an impressive vacation alternative as well as an interesting photo spot in Bali.
Those are some recommended tourist villages in Bali with their own uniqueness and charm. Choose your favorite destination and visit the tourist village while on vacation to Bali. Hope it is useful.