Batu is one of the popular tourist cities in East Java. Many East Java residents choose to visit the city of Batu because the air is famous for being cool and there are many tourist attractions there. The quality of tourist attractions in the city of Batu is also quite good when compared to other tourist attractions in East Java. The following is information on several tourist attractions in the city of Batu, East Java:
Jatim Park 1
The first tourist spot in Batu is Jatim Park 1. Jatim Park 1 is a well-known recreational vehicle in Batu. At Jatim Park 1, visitors can relax and learn many things at the same time. The rides in Jatim Park 1 include the Nusantara Gallery, Volcano, Science Center, Flumride and Mythologies, and others.
Entrance ticket on weekdays is Rp. 60,000 while on weekends that is Rp. 80,000. The entrance ticket includes dozens of free rides including the water boom, tourist market, fruit and vegetable market, and other rides. Apart from free rides there are also some paid games. Paid games at Jatim Park 1 include trampoline, agility arena, games room, flying fox, and go-karts.
For those who want to visit Jatim Park 1 can go to Jl. Kartika No. 2 Batu Tourism City. Jatim Park 1 is open from 08.30 to 16.30. Vacationing to Jatim Park 1 is more fun if you do it with your family. Kids or adults will love it.
Jatim Park 2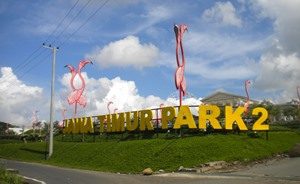 After the success of Jatim Park 1, Jatim Park 2 was also built, which is located in a different location. Jatim Park 2 offers two recreational areas, namely Batu Secret Zoo and Animal Museum. Batu Secret Zoo itself is a kind of zoo equipped with games and a swimming pool. At Batu Secret Zoo, we can enjoy various animals in a comfortable, clean, and beautiful place. There are also several games that you can try for free, including a children's playground and a swimming pool.
The Wildlife Museum which is also part of Jatim Park 2 is a place that contains replicas of animal bones such as dinosaurs or replicas of wild animals such as deer and tigers. The shape is very similar to the original animal so it can be used as a place to take pictures. Jatim Park 2 offers modern, comfortable, and educational tours. The facilities provided are also quite complete, such as a hotel for a place to stay, places of worship, bathrooms/wcs, restaurants, as well as places for selling souvenirs.
For those who want to visit Jatim Park 2, you can go to Jl. Oro-oro Ombo No. 9, Batu Tourism City. Jatim Park 2 is open from 10.00 – 18.00, with an entrance ticket for weekdays of Rp. 75.000 and weekend Rp. 105,000.
Eco Green Park
Eco Green Park is a tourist spot adjacent to Jatim Park 2. So many people also visit Eco Green Park when visiting Jatim Park 2. Eco Green Park is on Jl. Oro-oro Ombo no. 9A, Batu Tourism City. The entry ticket price for weekdays is Rp. 40,000 while for the weekend it is Rp. 60,000.
Eco Green Park offers educational tours with various collections of animals owned. The rides that can be enjoyed at Eco Green Park include the Insectarium Zone, Walking Bird Zone, Music Plaza Zone, Jungle Adventure Zone, Animal Farm Zone, Duck Kingdom Zone, and others. Visitors can take pictures there and get a variety of knowledge about animals. There are also rides where visitors can see how to squeeze cow's milk.
Batu Night Spectacular (BNS)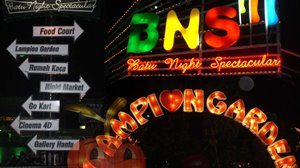 As the name suggests, this BNS tourist spot is intended for the night. BNS provides various rides that can be enjoyed by adults or children. There are also facilities such as a prayer room and a place to eat or a food court. In the food court, we can choose a variety of diverse foods at affordable prices. While enjoying our food, we are served with a musical stage.
In addition to rides such as air bikes, haunted houses, trampolines, drag races, mouse coasters, and others, there are also beautiful lanterns and lights. The lanterns or lamps are in various shapes so they are good if photographed at night.
Transport Museum

Museum Angkut is a tourist place that presents different things. Being a tourist spot developed by the Jawa Timur Park Group, this museum is a very worthy place to visit with its magnificent building. Visitors who come to Museum Angkut can see various means of transportation from time to time, from ancient to modern transportation. The means of transportation presented are also not only from Indonesia but from all parts of the world.
At the Angkut Museum, the means of transportation presented are divided into several zones such as the German Zone, Batavia Zone, Las Vegas Zone, Education Zone, Hollywood Zone, and others. The presentation is also quite interesting by showing the atmosphere from various places around the world. Like in the Gangster and Broadway Zone, visitors can enjoy a small overseas town with a police station, movie theaters, shops, and a Broadway Theater showing Charlie Caplin films.
Kusuma Agrotourism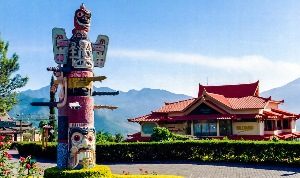 The next tourist spot in Batu is Kusuma Argowisata. Kusuma Agrowisata is a tourist place in the form of a fruit plantation located on Jl Abdul Gani Atas, Batu. In this place, visitors can enjoy fruit picking tours at quite affordable prices, namely by paying around 45,000 to 60,000.
Traveling to Kusuma Agrotourism is suitable if you take your family along, for example, bringing your children. Besides enjoying the fruit picked, children can also be taught directly about the plants or fruit trees that are there.
Besides picking fruit, visitors can also enjoy outbound rides. The cost for outbound is Rp. 125,000 for adults and Rp. 85,000 for children.
Stone Town Square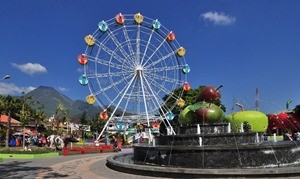 Batu is a new tourist city because it was previously part of Malang. Batu then developed its tourism well. Not only by building various tourist attractions, but the town square of Batu is also decorated in such a way that it can be used as a tourist spot for those who visit it.
The tourists both from within the city and outside the city will enjoy the town square of Batu which looks neat, attractive, and clean. There is a playground for children as well as a large Ferris wheel. The large Ferris wheel can be climbed by visitors by paying Rp. 3,500 only per person. Through the Ferris wheel, we can see the view of Batu city from above.
Coban Rais and Coban Rondo Waterfalls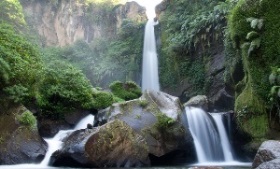 In addition to tourist attractions built by humans, in Batu there are also natural attractions that are still natural. Natural attractions in Batu include Coban Rais Waterfall and Coban Rondo. Coban Rondo Waterfall is easily accessible by visitors so that there are quite a lot of visitors.
Coban Rondo itself has its own story so that its name is called Coban Rondo or widow's waterfall. According to local legend, there was a widow named Dewi Anjarwati who waited for Raden Baron Kusumo at the waterfall. However, Raden Baron Kusumo did not come.
(Also read: waterfalls in Indonesia that must be visited)
Treehouse and Paragliding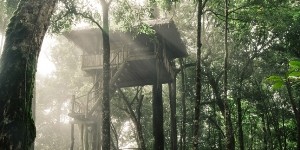 We can enjoy tree houses and paragliding in the Gunung Banyak area, Batu. On top of the mountain we can enjoy the view of the city of Batu. At night, tourists can see the city of Batu which is sparkling with lights and a beautiful night sky. Tourists can test their adrenaline by trying paragliding accompanied by a guide. This is suitable for those who want to go on extreme tours and test their mettle.
There is also a tree house that can be enjoyed at a price of around Rp. 250,000 – 350,000 per night. For those who don't want to stay overnight or go paragliding, just enjoying the view is actually enough. Tourists can take pictures and enjoy the coolness and natural beauty there at a cost of Rp. 5,000 only.
Kaliwatu Rafting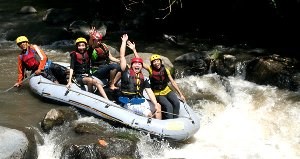 Sports lovers can enjoy rafting on Jl. Raya Pandanrejo No. 4, Bumiaji, Batu. There we can indulge in rafting with a distance of 7 km and a duration of 2 hours. We can wade through a fairly swift river and quite a lot of rocks.
The tourists need not be afraid because they will be accompanied by one or two guides. Not only adults, children can also try rafting or white water rafting there. Of course, safety remains number one, by providing a rafting track that is not too heavy. Children are also taught to maintain safety while not being afraid of challenges. Kaliwatu Rafting opens from 9 am, and costs Rp. 125,000 per person.
Those are some tourist attractions in Batu, East Java. Batu City itself can be reached easily either by public transportation or private vehicle. Tourist attractions in Batu offer a cool but modern atmosphere so that it is suitable as a family vacation spot, both adults and children. In addition to enjoying various and cool tourist attractions, visitors can bring special souvenirs from Malang. Typical souvenirs from Malang include apples and purple sweet potatoes.
other related articles: