This time we will go on vacation together to the city of Sukabumi. Ah, I want to see Tanah Lot, it's better to go on vacation to Bali. Ooww … don't know yet, huh? At Ujung Genteng, Sukabumi, there is also Tanah Lot of Java, you know. Do not believe? We'd better start exploring, shall we!
Ujung Genteng Beach
Ujung Genteng Beach is located in South Sukabumi, West Java. If you use a private vehicle from the city of Sukabumi, we can travel for 3-4 hours. This white sandy beach really spoils our eyes.
Here sometimes if we are lucky, we can see directly the turtle laying eggs and can also go with fishermen to look for lobster shrimp.
You will not regret spending your vacation here, along the way to Ujung Genteng Beach, we are treated to stunning green views on the left and right of the road, as well as the sensation of traveling through winding mountains.
If you want to spend more time, you can rent a villa around this tourist area. Just choose the one that fits your pocket.
Pengumbahan Beach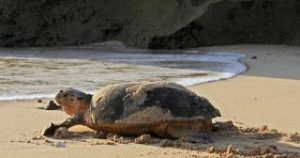 When compared to other beaches in Ujung Genteng, Pengumbahan Beach is a quiet beach. The sand is soft, there are no rocks and there is no trash that disturbs the eyes. One of the highlights on this beach is that we can see the mother turtles laying eggs directly. With an unmitigated number of eggs, between 80-200 eggs. Pengumbahan Beach is indeed a turtle conservation and breeding area.
Some of the turtle species that we can find are green turtles, olive ridley turtles, hawksbill turtles, flat turtles, loggerhead turtles, leatherback turtles. Pengumbahan Beach still has a lot of lush trees making it a suitable place for sea turtles to lay eggs because of the cool air. It is recommended to come around August to March here if you want to see the turtles laying their eggs.
There are 6 observation posts provided to observe the activity of the mother turtle in laying eggs. Each post contains a collection of tourists with a certain number that is limited so as not to be noisy and interfere with the turtle laying process. If you want to approach a turtle laying eggs, you have to wait until the turtle has dug a hole and released the eggs. The reason is that turtles are easily surprised when they see light and might not lay eggs. Meanwhile, if it has released an egg, whatever happens around it, the turtle will not care.
In addition to the temperature factor, the cleanliness factor must also be considered. Both play a role in the egg laying process. Turtles that have dug a hole to lay their eggs will stop digging if they find debris while digging. It might also interfere with the laying process.
Tips for tourists who come to see turtles, bring a jacket because the beach night is cold, moreover we can spend up to 3 hours waiting for the turtles to lay eggs, and secondly, don't forget to provide food in the bag to fill your stomach anytime you are hungry because it's midnight there are no shops open here. In the morning, if we still have time to be in Pengumbahan, we can also see hatchlings or turtle chicks being released into the ocean by the officers. And for those of you who need lodging, around the beach we find many lodgings at affordable prices. The location of Pengumbahan Beach is 70 km south of the city of Sukabumi.
Amanda Ratu Beach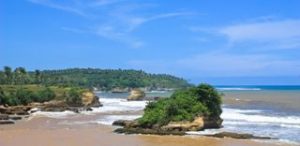 This beach is known as Tanah Lot, Java Island. Amanda Ratu Beach is a bit different from other beaches in Ujung Genteng. The difference, especially in the lodging facilities available at Amanda Ratu Beach, has a fairly expensive price. If other lodging, right, the price is cheap and affordable. Lodging at Amanda Ratu is suitable for those of you who have a thick wallet.
For those who want to get cheap lodging, you can look for it around Ujung Genteng Beach. Oh, yes, what makes Amanda Ratu Beach nicknamed Tanah Lot on the island of Java is because of the resemblance between the two beautiful places. Equally there is a small island which is located not far from the shoreline. Also has cliffs. Staring directly at the waves breaking the reef gives a different tourist sensation from other locations.
Seven Waves Beach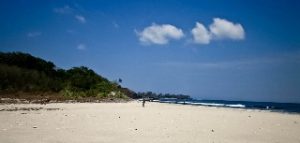 This beach is very famous among surfers or surfers. Yes, Seven Waves Beach. For those of you who like surfing, don't miss visiting here.
The unique thing about this beach is that the waves are big and come rolling in succession 7 times. This is why the beach is named after the Seven Waves.
The location of Ombak Tujuh Beach is close to Pengumbahan Beach, about 15 km from Pengumbahan and can be reached by walking or taking a motorcycle taxi. The trip takes about 3-4 hours. If you take an ojek, the fare is according to the agreement (usually between 150,000-250,000).
Cipanarikan Beach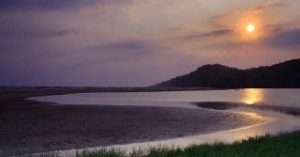 Cipanarikan Beach is a place where the flow of the Cipanarikan River meets sea water. On this beach we can also find stretches of white sand, like a desert with very fine sand.
The journey to the white sand takes between 3-5 minutes along the unspoiled protected forest, that's where we can see the beauty of the white desert.
Watching the sunset on Cipanarikan beach, will be a soothing sight to end the evening in peace.
Minajaya Beach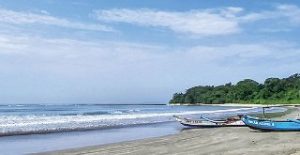 The atmosphere of Minajaya Beach is still beautiful with blue sea water. Here at low tide we will see many mothers who are busy looking for seaweed (jukut hejo) while their fathers are looking for lobster shrimp.
Want culinary? Don't worry, you can buy the catches of the fishermen in the form of fresh fish and shrimp and process them yourself in the hut near the beach. Eating your own creations definitely feels more delicious.
Blue Tent Beach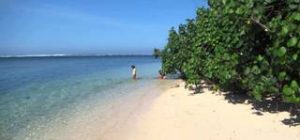 The white sandy beach with coral reefs is an enchanting sight. Blue Tent Beach is part of a protected forest area monitored by the Indonesian Air Force.
The entrance ticket is very affordable, which is Rp. 5000, -. If the sea water recedes, we can walk up to 300 meters to the middle of the beach. Unfortunately the Blue Tent Beach is not clean and not well cared for. Garbage scattered here and there makes its beauty less.
Cigangsa waterfall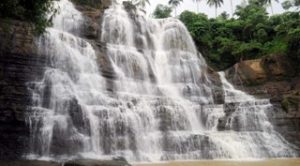 Curug Cigangsa has a charm of beauty that captivates the eye. Traveling to the waterfall, which is located close to Curug Cikaso, is a bit difficult because of the minimal signage. Curug Cigangsa which is also known as Curug Luhur has 3 levels and is said to have been formed due to an earthquake that caused landslides.
In the upper reaches of the river, the community uses it for irrigation purposes. So don't be surprised if the water is small, OK? Curug Cigangsa has black stone walls and to enjoy its beauty we can take it from 2 directions, up and down. The name Curug Cigangsa comes from a person's name (Grandfather Gangsa).
And near the waterfall we can find a stone called the Masigit stone or the mosque stone. Eh, the location of Curug Cigangsa also plays a role in the struggle of the Indonesian people, you know. Because this is where the fighters often hide from the chasing Dutch colonialists. Curug Cigangsa is precisely located in Batusuhunan Hamlet, Surade District, Sukabumi.
The entrance ticket to this location is IDR 3000 per person and a car is IDR 12,000 per vehicle. Seeing the beauty of the waterfall from below, we have to go down a steep and slippery slope so we have to be more careful. It's tired, really, but the beauty of the panorama around Cugur Cigangsa which is green and beautiful will treat our tiredness.
Curug Cikaso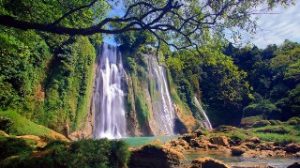 Curug Cikaso is located not far from Cigangsa. This is also a popular tourist destination in Ujung Genteng. At this location we can see 3 waterfalls with a bluish pool that holds the water below.
The three waterfalls have their own names. Asepan waterfall (left), Aki waterfall (right), Meong waterfall (middle).
The three waterfalls are about 80 meters high with a cliff width of 100 meters. The best time to come here is in the morning because we can see the water droplets exposed to sunlight clearly. In this area there are also other waterfalls, including Curug Cikatomas and Curug Calem which takes about 30 minutes from Curug Cikaso. The entrance ticket to this location is IDR 4000, – per person. The beautiful and beautiful scenery is very eye-catching.
Cibuaya Beach
Cibuaya Beach has a beautiful view. This beach is known for its natural aquarium. Because there are often colorful fish trapped in the coral holes on the beach. The beautiful fish occupied the hole between the beach rocks. The fish are carried by the rolling waves to the shores of Cibuaya Beach. Panorama that is rarely found on other beaches.
Happy Holidays!