The Czech Republic seems to be less familiar when it comes to tourism when compared to other countries on the European continent. However, with the tourist attractions in the Czech Republic this time, you will see for yourself the evidence that this historic city is also very worth visiting during your vacation. There are many interesting and fun things that tourists can enjoy and do so they will definitely feel at home.
Charles Bridge
If you are looking for a historical tourist location but still fun to visit, the Charles Bridge, also known as the Karluv Most, is a bridge over the Vltava river in the center of Prague. There are two districts connected by this popular bridge, namely Lesser Town and Old Town. There are also two famous tourist attractions that are connected by this bridge, namely the Old Town Square and Prague Castle, so it is not surprising that tourists must visit this location. Charles Bridge is not just a pedestrian bridge because it reaps high popularity among world tourists.
The uniqueness of this bridge is that there are 30 statues that stand in a row along the bridge on both sides. Most of the statues are made in the Baroque style and look even more beautiful because they complement the rows of lamps that have an ancient style. It's not wrong if you decide to come to this place because in addition to the cool architecture of the bridge, street artists and stalls are located in this place so that tourists are more satisfied.
Petrin Hill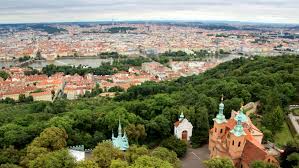 Nature tourism in the Czech Republic is very possible and you can go directly to Petrin Hill which is located in Prague. Head to Lesser Town and you're sure to find a hill with the Vltava River on its left.
With a height of approximately 318 meters and filled with green grass, Petrin Hill is the right place to calm down and relax with your partner, friends or family. Locals also often use this hill area to exercise and take their pets for walks.
Bohemian Paradise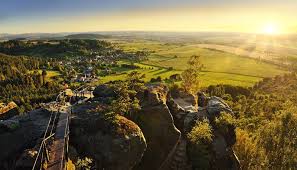 This nature reserve is the first nature reserve that the Czechs have and it was declared in 1955. Located east of Prague and north of Bohemia, this place's popularity is only increasing thanks to the region's beautiful countryside. For nature lovers, Bohemian Paradise is really recommended to be visited.
The biggest advantage is that tourists can get a complete view due to the distance of the locations of a number of tours that are close to each other. Enjoy and admire to your heart's content all the natural beauty that is here, even this tourist location is also close to other tourist attractions, such as museums and castles. The two significant castles in this area are Kost and Trosky, and there are also some famous ruins of ancient buildings that can be visited.
Josefov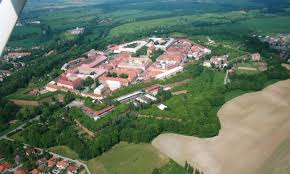 The Czech Republic is not inferior to other countries that have areas of former Jewish settlements. Another Czech attraction that can be found is this Josefov where it is called the Jewish Town or Jewish Quarter. This old Czech Jewish village is located in a small area between the Vltava River and the Old Town. Because the name alone is already a former Jewish village, most of the original buildings have been destroyed, namely in 1983-1913 in order to reorganize the city.
Redevelopment is being carried out in this area so that what tourists will find are 20th century buildings aka new buildings. It becomes difficult to get a picture of the original state of the old village which used to only have a population of about 18 thousand people. The remaining buildings actually still have several, including the Old Jewish Cemetery which is an old cemetery area, the Old Jewish Town Hall or city hall, and 6 Jewish churches (Spanish Synagogue, High Synagogue, Klaus Synagogue, Old-New Synagogue, Pinkas Synagogue, and Maisel Synagogue.
Pilsen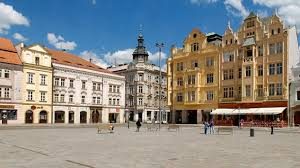 It will not be complete if you go to the Czech Republic but do not visit the city of Pilsen, which is precisely in West Bohemia, Although from Prague tourists have to travel approximately 90 kilometers, this city will give you the satisfaction of a vacation because it is considered the 4th most densely populated city in the Ceo Republic. The city is famous for its Pilsner beer which was created by Josef Groll in 1842. However, there is also St. Gothic Cathedral. Bartholomew is the most striking attraction in Pilsen because it was built in the late 13th century.
Since the most interesting and famous in this city are its beers, namely Gambrinus and Pilsner Urquell which are now under the ownership of the South African Brewery, tourists can visit spectacular attractions related to brewing. Join the tour for more experience and insight into the city's beer history. Beer with pilsener experienced development in the 19th century.
Prague Castle
The Prague Castle Complex can also be used as a main destination because the complex which stands on an area of ​​​​approximately 70 thousand square meters is the largest castle recorded in the Guinness Book of World Records.
Formerly, this castle was the seat of government of the Bohemian kings, presidents of Czechoslovakia and Roman emperors, but now part of the castle is functioned as the residence of the president of the Czech Republic and the rest is open to tourists who want to come to visit this castle because inside this castle has its beauty and uniqueness. thus making a lot of tourists who want to visit.
Old Town Square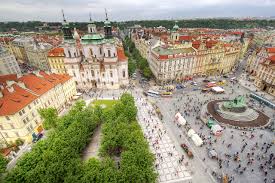 Another one is in Prague, Old Town Square which is between Charles Bridge and Wenceslas Square. In the form of a fairly wide square, this location is often used as a starting point by most visitors before they finally explore the Czech capital. The reason why this attraction is recommended is because tourists with a love for beautiful and classic buildings are guaranteed to be satisfied.
Many old buildings that stand around this square with various shapes and colors. The architectural style also varies because it can be seen that there are buildings in the Baroque style, but there are also those that are stylish gothic. There are plenty of outdoor cafes that are also easily found around the square, as well as the oldest and rarest astronomical clock in Europe.
Kampa Island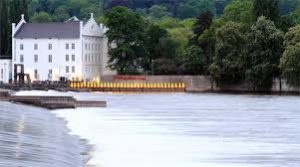 This elongated island is located on the side of Lesser Town and on the banks of the Vltava River. However, for those who imagine how this island is full of shady trees, this island is not like that. In fact, there are many buildings with colorful modern semi-classical architecture here and there. The tourist objects are not much and are not the main attraction of this island.
Most tourists like Kampa Island because of its attractive atmosphere where there are canals and river banks. Not to mention the buildings with bright colors really show the characteristics of the city of Prague itself. However, Grand Priory Square can also be one of your visits while on this island. In the form of a small open square, this area has a number of park benches and trees that will be very refreshing for those who relax.
Wallenstein Palace in Lesser Town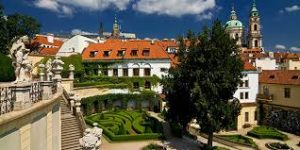 After exploring the Old Town Square, Lesser Town is not to be missed. Wallenstein Palace is the main attraction in Lesser Town and with its Baroque architectural style, it certainly attracts tourists not to forget it. This palace complex is so complete because apart from the main palace building, visitors will also find a horse riding school, horse stables, a large garden, and a church chapel.
The palace, which was built by Albrecht von Wallenstein between the years 1623-1630, actually aims to be a rival to Prague Castle. After the death of Wallenstein in 1634, the Wallenstain family still owned this palace until 1945. Finally, this palace changed ownership which eventually became the property of the Czechoslovak state at that time and changed its function into a government office. But now, visitors will find that the main building of this palace is used as the office building of the Czech Republic's senate.
Vysehrad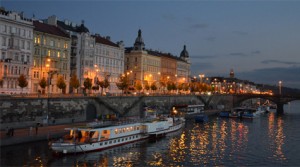 The city of Prague has one more castle complex, namely Vysehrad which is located on the right of the Vltava River. Unfortunately, this castle is not what most tourists imagine because there are no castles in Vysehrad. Indeed, the Vysehrad castle complex used to be the residence of the Bohemian royal family, but after the royal family moved to Prague Castle, this location ended up not being maintained. The damage is getting worse not only because of neglect, but also because of the looting that occurred several times during the war.
So, after looking at the list of tourist attractions in the Czech Republic, are you even more curious to visit? Czech Republic will never disappoint its visitors because basically this country offers interesting panoramas and atmospheres that will make your holiday even more fun.
Also read articles on other unique tourist attractions