Jogja is still a tourist city which is still crowded with tourists from various regions. Most come to Jogja to enjoy cultural and historical attractions. However, if tourists have come to Jogja before, maybe they will look for a new atmosphere to spend their vacation time in Jogja. If you want to find new activities while traveling, maybe fishing can be a recommended activity. Here are some fishing spots in Jogja that can be an alternative.
1. Jogja Adventure Zone
Fishing in the wild might be able to treat a sense of longing for nature. Jogja Adventure Zone can answer that. Jogja Adventure Zone is indeed a tourist attraction in Yogyakarta.
There are 2 large fishing ponds. One pool has an area of ​​just 200 square meters, while the other has an area of ​​9,000 square meters. In addition to fishing there, the cost is also very cheap, which is only Rp. 5,000.
Besides fishing, tourists who come can enjoy other activities there, such as apintball, aeromodelling, or offroad. In addition, there are also jogging tracks and bicycle tracks for outdoor sports. Suitable to be used as a place for Lebaran tourism in Jogja with family.
Location: Pelem Lor Hamlet, Baturetno Village, Kec. Banguntapan, Kab. Bantul
2. Opak River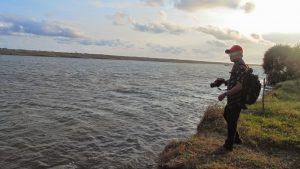 Opak River is one of the rivers in Yogyakarta, more precisely through Sleman and Bantul. This river is often visited by local residents or outsiders who like fishing.
Reportedly, this river does store various types of freshwater fish in abundance. The types of fish commonly found by anglers here are cork fish, catfish, tawes fish, wader, and so on.
Another thing that makes fishing lovers like to come there is the scenery which is quite natural and beautiful. In fact, it is not uncommon for people who do not fish, but only take pictures around the river.
Location: Opak River, in Sleman and Bantul
3. Pond Boyo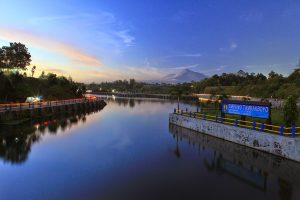 Another fishing spot in Jogja is Tambak Boyo. This Boyo Pond is a pond that initially functioned for PDAM water supply. However, this pond is being developed as a tourist attraction and is also interesting as a Photo Spot in Jogja.
This is increasingly seen from the various facilities at Tambak Boyo which are increasingly complete. Tourists who come can also jog there. In addition, there are also many anglers, both experts and tourists who want to try fishing there.
Most of the fish that can be obtained from Tambak Boyo are tilapia. But there are also other types of fish such as pomfret, catfish, and redslayer. The best fishing time is in the afternoon.
Location: Condong Catur, Sleman
4. Sermo Reservoir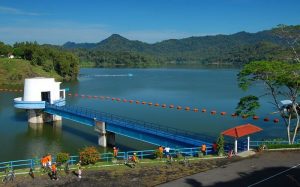 Besides Boyo Tambak, there is another reservoir called Sermo Reservoir. This reservoir has also been developed into a tourist spot and has become one of the recommended tourist attractions in Jogja. The area reaches 157 hectares and the water is used as a source of irrigation for farmers in the Kulonprogo area.
Sermo Reservoir has a beautiful and beautiful view. Even this reservoir is also surrounded by green hills. That's why many tourists come there to enjoy the atmosphere.
Anglers who like to come to the Sermo Reservoir usually find freshwater fish such as tilapia, mujair, red devil, and also buso. They usually use an ombyok type of fishing rod.
Location: Hargowilis, Kec. Kokap, Kulonprogo
5. Kranduan River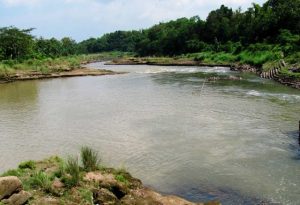 In addition to the Opak River, in Jogja there are other rivers that are often used for fishing in Jogja. Its name is Kranduan River. This river also has a view that is still very natural and beautiful. The surroundings are still very green with green plants and trees.
However, it is reported that the fish in this river are quite agile and difficult to catch. Anglers often find it difficult to catch fish here. But therein lies the attraction that makes anglers curious and want to try fishing again and again.
The scenery around the Kranduan River is still natural with green trees on the banks of the river. This location is also suitable for taking pictures while seeing the excitement of people fishing.
6. Ledok Gebang Fishing & Resto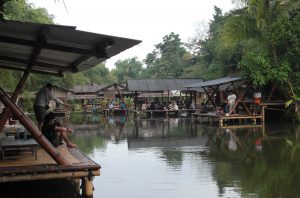 If you want to fish but don't want to be far from the city, maybe this place can be one solution. Ledok Gebang is the name of a restaurant located in Sleman and is one of the interesting places for culinary tourism in Yogyakarta.
This restaurant has become a place to eat as well as a place for fishing which is quite popular in Sleman. The clean place is also very pampering the visitors. This restaurant is also home to various types of freshwater fish and shrimp.
Visitors can fish and also order food whose menu is mostly freshwater fish and freshwater shrimp. There are also fishing rods and bait rentals at a very low cost.
Location: Jalan Gatot Kaca, Krajan Hamlet, Wedomartani Village, Kab. Sleman
7. Kadisoka Fishing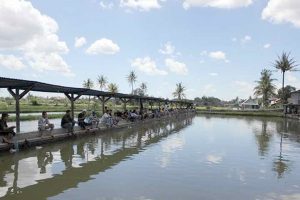 One more place to eat as well as a fishing spot in Jogja that can be visited. The location is also still in Sleman. There is a main pond with various types of freshwater fish.
The types of fish in the fishing pond are pomfret, tilapia, catfish, gourami, and many more. If you have got fish, the fish will be calculated per kilo to determine the price.
Fishing there has a fairly comfortable atmosphere. In addition, the food menu has a good taste. This location is suitable for family culinary tours or with friends.
Location: Purwomartani, Kalasan, Sleman
8. Spring Ayu Kalasan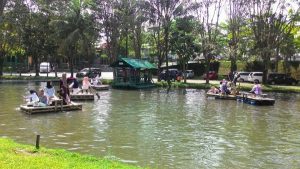 Another fishing location in Jogja and its surroundings which is quite easy to reach, even by tourists who come from outside the city of Jogja. This is because the location of Sendang Ayu Kalasan is on the main route of Jogja – Solo.
This restaurant has a fishing pond with a row of gazebos that seem to float above the pond itself. Not only that, there are also boats that you can ride and are suitable for family tours.
In addition to eating and fishing, children can enjoy the playground around the dining area. The atmosphere in this place is also quite cool because it has a lot of green trees around it.
Location: Jalan Jogja-Solo Kilometer 15, Sleman
9. Karangasri Fishing Valley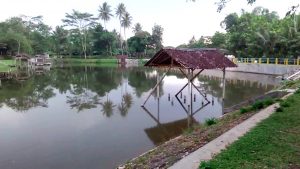 Still in the Sleman area, there is another fishing spot that you can visit when you want to eat while fishing in one place. Its name is Karangsari Fishing Valley. Actually Karangsari Fishing Valley is a restaurant.
This restaurant has a fairly large area, complete with a fishing pond that can be used as a fishing location. In addition, there are also several other facilities that visitors can enjoy.
Visitors can do outbound activities in this place. In addition, you can also do activities along the river, to camping in the vicinity. The scenery there is of course very natural and can spoil the eye.
Location: Karanggeneng Hamlet, Purwoninagun, Pakem, Sleman
10. Arum Mina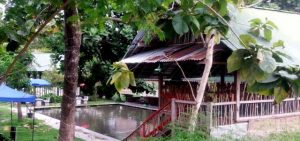 Moving to Bantul, there is also a fishing location that is suitable for visiting with the family. Her name is Arum Mina. Actually this location is a place to eat, but provides fishing facilities for visitors.
Just like the previous place to eat, the food menu served here is still struggling with freshwater fish menus. Visitors can eat while fishing there with family or friends.
If you are curious, try to come and enjoy the food and the fishing atmosphere there. Although the place is simple, visitors can relax for a moment by fishing there. If you visit tourist attractions in Bantul, don't forget to stop by here.
Location: Gumuk Indah Street, Ngestiharjo, Kasihan, Bantul
Those are some recommended fishing activities in Jogja and its surroundings, starting from direct fishing in the wild or in fishing ponds. Have patience waiting for the fish to catch your bait. Hope it is useful.