Enjoying vacation time is indeed suitable if used to release fatigue. One way is by traveling. One of the islands in Indonesia that is often used as a tourist destination besides Bali is Lombok. Lombok does have a wealth of beautiful and interesting nature. If you are planning to go there, try to find some beautiful sunrise spots in Lombok to start your morning. Here are some recommendations.
1. Pergasingan Hill
Pergasingan Hill is one of the names of the hills in Sembalun which began to be glimpsed as a tourist attraction. This hill is even often used by prospective climbers to warm up before climbing Mount Rinjani.
This hill is located at an altitude of approximately 1,700 meters above sea level and is one of the attractions to enjoy the beautiful morning atmosphere. Its position is in Sembalun Village, East Lombok. From the top of the hill, you can see the expanse of nature and also the residents' rice fields that look like small plots.
To reach the peak, climbing does need to be done. But the journey is not as difficult as climbing to Mount Rinjani. However, you still need to be careful and prepare your energy, because the slope angle of this hill reaches 60 or even 70 degrees. Many tourists rent accommodation in Sembalun to enjoy several other attractions in Sembalun.
2. Bukit Nanggi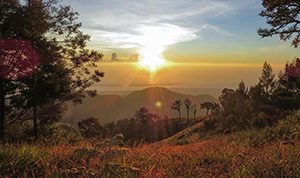 In addition to Bukit Pergasingan, the sunrise in Lombok in the form of other hills is Bukit Nanggi. This hill is located in Sembalun Bumbung and is one of the higher hills than Bukit Pergasingan. Its height reaches 2,300 meters above sea level.
To reach the peak, it takes a fairly long climb, which is 3 to 4 hours according to each physical strength. This hill is also often used as a camping or camping location for tourists, because it is suitable for enjoying the morning atmosphere.
The natural beauty of this hill is no longer in doubt because this place is still very natural. Even this place is relatively quiet from visitors when compared to Bukit Pergasingan.
3. Dandaun Hill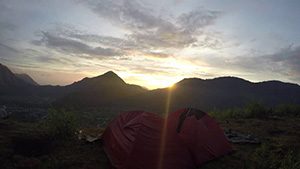 Still about hills, hills and mountains it is indeed one of the best locations for hunting sunrise or sunrise views. If you want to visit Lombok, try coming to Dandaun Hill which is also still in the Sembalun area.
Although this place is not as popular as Pergasingan Hill, the natural beauty of Dandaun Hill is no less beautiful. Even this hill will look more natural because not many tourists have visited there.
The interesting thing about this place is not only the natural scenery and the sunrise there, but also the presence of cattle, old trees, and hundreds of species of forest orchids. This place can also be used as a camping location with traveling companions.
4. Dara's Hill
Advantages of Nature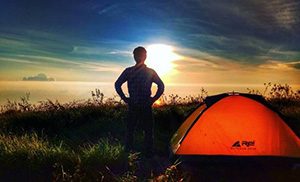 Another place that is also suitable for hunting sunrise and sunset views is Bukit Anak Dara. This place was only opened as a tourist attraction in 2015. But until now its name is still foreign to the ears of tourists, so you can visit there more freely.
Its position is at an altitude of approximately 1,900 meters above sea level, and is the other highest hill after Bukit Nanggi. The climb to the top of the hill takes approximately 2 to 3 hours of travel. Visitors are recommended to hire a guide because this hill is still relatively quiet.
Visitors can also set up tents and camp there. Not only sunset and sunrise views, the night view at Anak Dara Hill is also very charming because the stars will be able to look brighter and more beautiful from the top of the hill.
5. Idung Rock Hill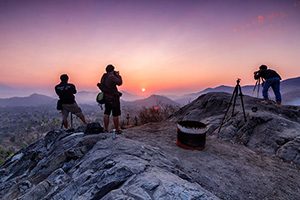 Unlike the hills described above, this sunrise spot in Lombok is not in Sembalun, but in Gerung, West Lombok. This hill became popular through social media.
The interesting thing about this hill is its position which is not so far from the center of Mataram City, so it is more accessible than the hills in Sembalun. You only need to drive for about 30 minutes to reach this tourist area.
Batu Idung Hill is so called because the shape of this hill is similar to a human nose. This place is also suitable for mountain bike hobbyists because the tracks are quite safe but provide beautiful views. You can also camp there.
6. Mount Rinjani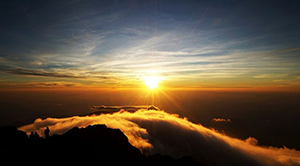 It's not complete if you hunt for sunrise in Lombok but haven't been to Mount Rinjani. The most beautiful mountain in Indonesia does have an incomparable beauty. In fact, this mountain is often used as a dream for mountain climbers throughout the archipelago.
The beauty of Mount Rinjani at sunrise can be enjoyed from its peak or it could be from Lake Segara Anak. Although to reach that point requires a very extra struggle, but the climbers will definitely try to get to the top.
This is because the highest point of Mount Rinjani is not only beautiful, but also one of the highest mountains in Indonesia, so climbers will try to get to its peak.
7. Gili Trawangan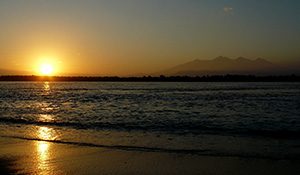 If you are not too interested in mountains or hills, you can visit Gili Trawangan. Gili Trawangan is one of the most popular dyke as a tourist destination for tourists.
Not only can you get a sunset view, Gili Trawangan is also very beautiful in the morning when the sun will rise. On this island you can enjoy the beautiful scenery from the beach. So many people make this place a Honeymoon Place in Lombok.
In addition, you can also do other interesting tourist activities throughout the day on Gili Trawangan. Apart from the fact that there are many accommodations or inns, Gili Trawangan also has complete facilities for tourists who visit there.
8. Tanjung Ringgit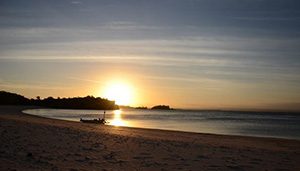 Not only is Gili Trawangan beautiful as one of the sunrise spots in Lombok, you can also visit Tanjung Ringgit. Tanjung Ringgit is one of the interesting tourist objects to visit.
The beautiful scenery there can be enjoyed with a beautiful background. In addition, visitors can see Mount Rinjani as well as Sumbawa Island from Tanjung Ringgit. So that the scenery there will be more interesting and beautiful.
In addition, the hills on the coast of Lombok will add to the beauty of the morning atmosphere. When the sun begins to appear, its light will warm the atmosphere in Tanjung Ringgit. You can build a tent and camp there to wait for the sun to rise the next morning.
9. Sire Medana Beach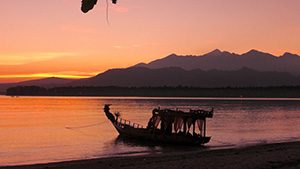 Another interesting beach for enjoying the sunrise view is Sire Medana Beach. This beach is one of the natural attractions in North Lombok. You can visit there quite easily.
The view that can be obtained from there is a view of Mount Rinjani which is beautiful and majestic. The sun will begin to appear behind Mount Rinjani. The light that comes out of the morning sun will make Mount Rinjani a dashing and beautiful silhouette.
Not only that, you can also enjoy the view of this beach more freely because the waves from this beach are not so big. Suitable for those of you who like to soak your feet around the beach.
10. Malimbu Hill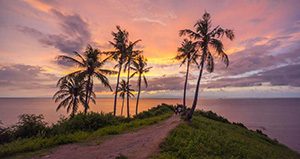 There is another one of the best sunrise spots in Lombok, namely Malimbu Hill. This hill is one of the interesting tourist attractions in Lombok and is starting to get crowded with tourists.
The interesting thing from there is that visitors can enjoy sunrise and sunset views from the same place. From there you will also see Gili Trawangan from a distance. In addition, you will also see beautiful views of Mount Agung on the island of Bali.
Tourists can enjoy the atmosphere in Malimbu Hill by enjoying warm food and drinks from the place. You can visit at any time, either in the morning or in the afternoon.
Those are some of the sunrise spots in Lombok that are interesting to visit. Also know some beautiful sunset spots in Lombok in the afternoon. Hopefully the information above is useful for you.